Car Leasing in Ireland
HAINES FLEET Management (HFM) is a long-established business originally registered as Joe Duffy Leasing in 1973 (Reg. no. 40048).  Eugene Haines acquired it through an MBO in August 2004.   It is now an independent entity and is not affiliated with any car manufacturer, distributor, or financial institution. It is a medium-sized company that has survived the test of time while enjoying its credit rating up to 100%.
We are now based in Airside Swords just ten minutes from Dublin International Airport and the M1 Motorway.
Our Values
"Small enough to care, experienced enough to deliver"
We strive to achieve the highest standard of satisfaction which has served us well in our long term retention of custom by adhering to the following core values:
Delivering on promises while surpassing the expected.
True accountability from each of the team.
Energetic responsiveness with flexibility.
Integrity in every aspect of our business.
While we are driven by ambition and passion, we are also compassionate and understand the changing circumstances of our clients. We communicate with both existing and indeed potential new lease customers by either meeting them in person or speaking directly with them by phone.  There are no push phone buttons needed, and nobody is treated to music while they wait to talk with an operator!
What do we do?
Our core business is the management of small to medium-sized fleets throughout Ireland for both domestic and international businesses.
Currently, we have twenty-nine different quality marques on our car lease fleet mix which provide real choice to our customers. Since we supply on a country-wide basis, vehicles are sourced locally where possible. Loyalty and affinity play an important role in maintaining our client and supplier relationships. Our service suppliers include financial providers, vehicle sourcing, service maintenance/damage repair specialists. 
At Haines Fleet, we pride ourselves on our ability to offer customers a competitive rate on a car-by-car basis. We recognise that "our last order must always represent our best value" and possibly be the first of many more, given the goodwill referral that serves us so well. We are mindful of the fact that if we tailor our pricing too tight it may remove flexibility when it comes to the possibility of excess mileage, changing a vehicle early, or indeed the all too familiar 'fair wear and tear' when a lease vehicle is returned.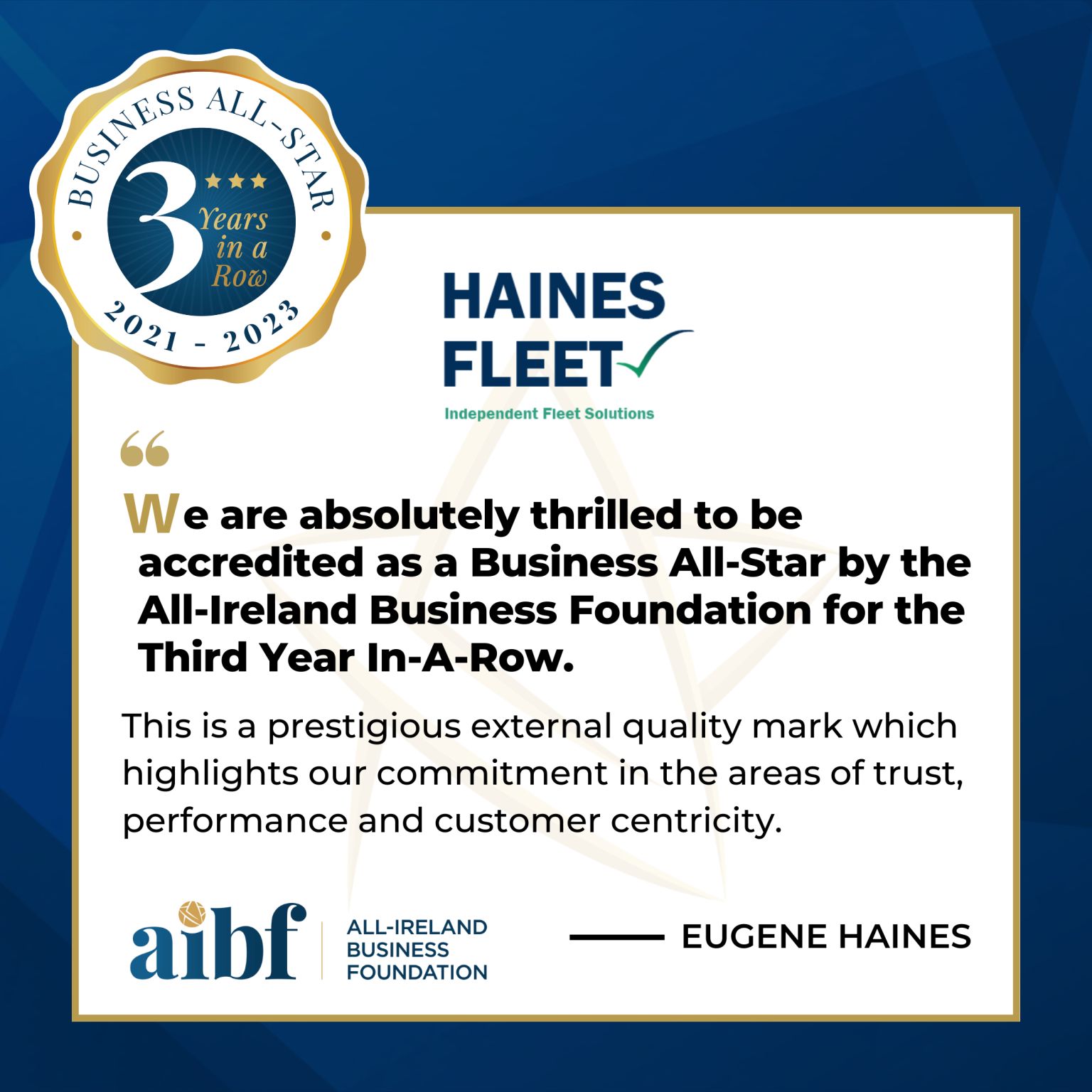 All-Ireland Fleet Solutions Company of the Year for the third year in a row
Haines Fleet are proud to have been awarded Business All Star Accreditation, from 2021-2023, three years in a row.
The All-Ireland Business Foundation is an autonomous national accreditation body tasked with enterprise development and the promotion of best-in-class Irish businesses.
Companies that are Business All Star certified are progressive, Irish-owned businesses that meet the highest standards of Verified Performance, Trust and Customer Centricity.
This accreditation is an extraordinary achievement that recognizes the hard work of our team and their dedication to providing top-quality service for all customers.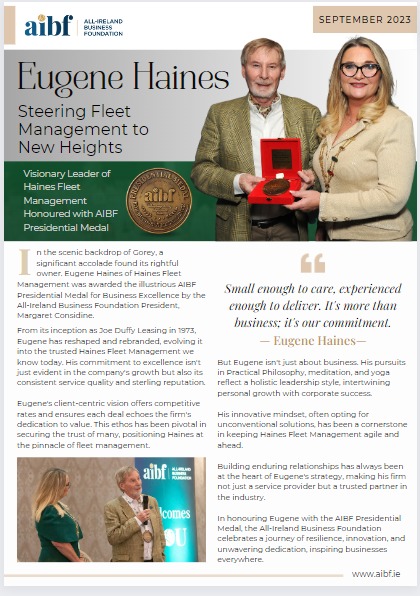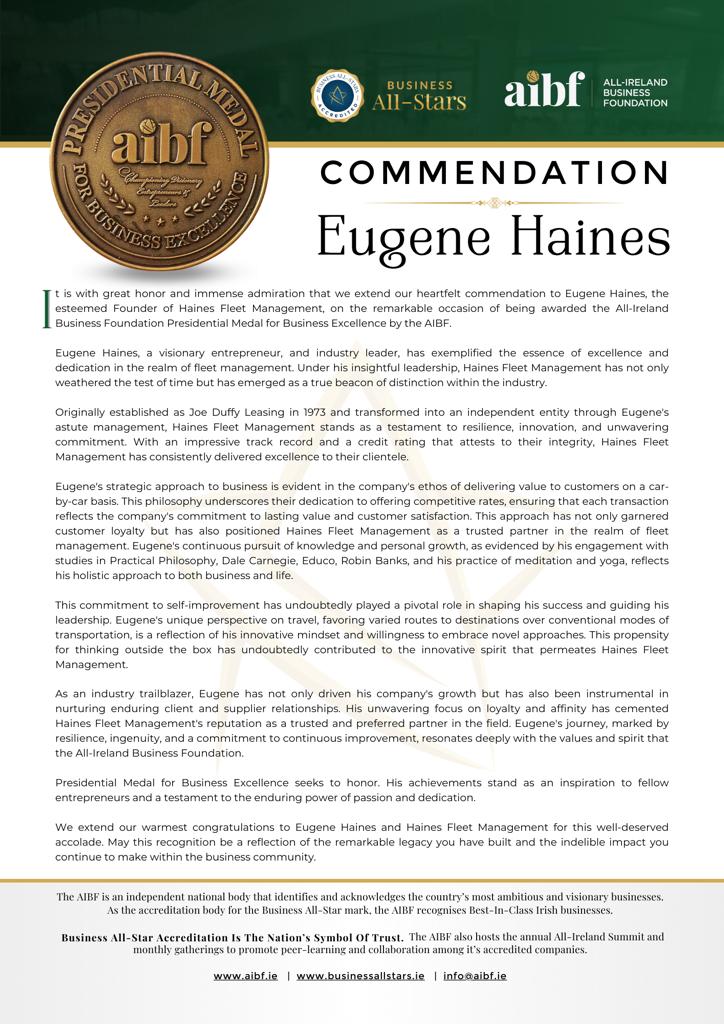 In December 2022, Eugene Haines, Managing Director of Haines Fleet, was admitted as a Fellow of the All-Ireland Business Foundation (FAIBF). This is a prestigious accreditation that is bestowed on an exclusive selection of entrepreneurs for their ongoing commitment to the highest standards of business excellence.
In August 2023, Eugene Haines was awarded the All-Ireland Business Foundation Presidential Medal for Business Excellence by the AIBF. Eugene Haines, a visionary entrepreneur, and industry leader, has exemplified the essence of excellence and dedication in the realm of fleet management. Under his insightful leadership, Haines Fleet Management has not only weathered the test of time but has emerged as a true beacon of distinction within the industry.
Originally established as Joe Duffy Leasing in 1973 and transformed into an independent entity through Eugene's astute management, Haines Fleet Management stands as a testament to resilience, innovation, and unwavering commitment. With an impressive track record and a credit rating that attests to their integrity, Haines Fleet Management has consistently delivered excellence to their clientele. Read the AIBF Commendation to Eugene Haines